MsMr
Hurricane
Tristan Prettyman
I Was Gonna Marry You
The Violet Burning
Blind
+ Recent Comments


Warning: Use of undefined constant comments - assumed 'comments' (this will throw an Error in a future version of PHP) in /users/andymorales.com/htdocs/snideremarks/wp-content/plugins/get-recent-comments/get-recent-comments.php on line 928

Warning: Use of undefined constant comments - assumed 'comments' (this will throw an Error in a future version of PHP) in /users/andymorales.com/htdocs/snideremarks/wp-content/plugins/get-recent-comments/get-recent-comments.php on line 928

Warning: Use of undefined constant trackbacks - assumed 'trackbacks' (this will throw an Error in a future version of PHP) in /users/andymorales.com/htdocs/snideremarks/wp-content/plugins/get-recent-comments/get-recent-comments.php on line 929

Warning: Use of undefined constant trackbacks - assumed 'trackbacks' (this will throw an Error in a future version of PHP) in /users/andymorales.com/htdocs/snideremarks/wp-content/plugins/get-recent-comments/get-recent-comments.php on line 929


Categories
Archive for January, 2010
January 9th, 2010
I had a fun little exchange via twitter with the restruant Pei Wei yesterday.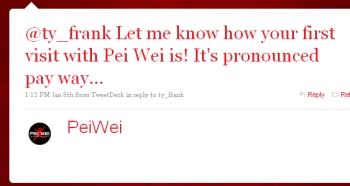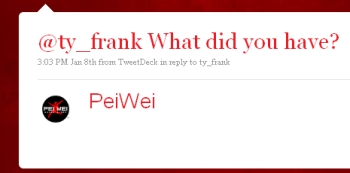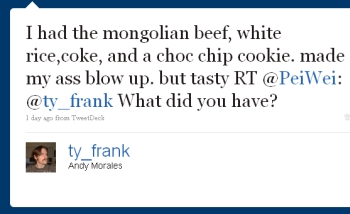 Tags: pei wei, twitter
Posted in Tidbits | 1 Remark »
January 4th, 2010
I saw this video when it first came out, and I cracked up.  Since then I have had to look it up on multiple occasions to show others.  Therefore, it belongs here in my classics.  This is a spoof on the movie "the Box."  The original trailer is first, and the funny one second.
Tags: funny or die, the box, the button
Posted in Classics, Tidbits, Video | No Remarks »