May26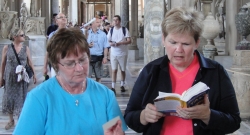 We were scheduled to meet up with JeanE and Kathie at about 9:15 am on the Bridge of Angels, near the Angel holding the crown of thorns.  We succeeded in that, and it was then a picture fest.  The sun was already beating down, and we were taking tons of pictures while walking towards the Vatican for our appointment at the Vatican Museum.
The walk took us 2 hours.  Wow.
I had ordered our tickets for the museum online, and although the lines weren't gigantic today, we would have been able to avoid them because of this.  I highly recommend ordering your tickets online if you ever go to the Vatican museum here in Rome, or if you go to the Accademia or Uffizi in Florence.
We hit the last couple of rooms of the museum first, so that when we got to the Sistine chapel, we could duck out the back door directly into St. Peter's Cathedral.  I pretended to be the group's tour guide, holding my folder aloft so that they could follow me.
After the last couple of rooms (that we saw first), we were already famished and we would not be able to complete the 6 miles worth of museum unless we ate something.  So we stopped at the cafeteria and had a lunch and a rest.  The first 2 rooms alone seemed like a forever amount of museum.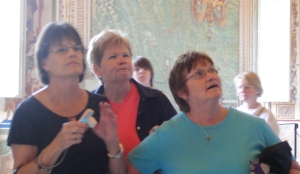 It is always an interesting experience trying to explore a museum with others.  Everyone has their own style.  Some are fast, some are slow, some like to sit and stare, and others just like to sit.
JeanE was really excited to see the Sistine Chapel, and so around every turn, in every room, she would ask "is this it?"
We reached the Raphael room, which is probably one of my favorite rooms in this museum.  I love his School of Athens painting.  Actually, I think I like all artists that paint archways, or have a similar feel. I'm a big fan of Veronese's paintings that are similar.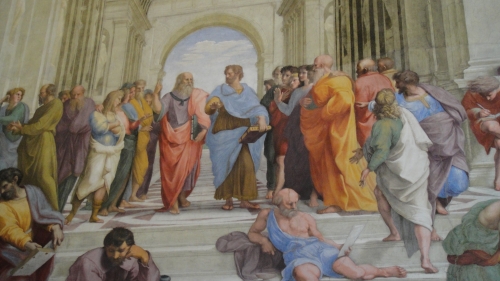 We finally, to JeanE's delight reached the Sistine chapel.  We hung out there with the crowds for awhile.  They no longer even allow non-flash photography and I thought I would be sneaky and take a non flash photo by holding the camera at my waist.  Well, one of the guards caught me, took my camera, and kicked me out.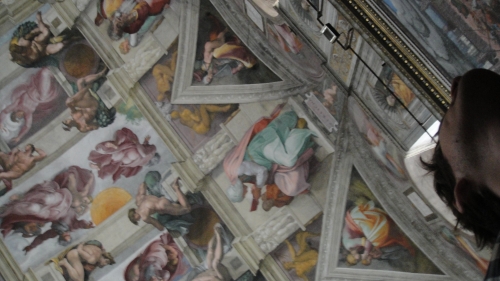 OK, the last sentence wasn't fully true.  He did catch me, and he made me put it away, and he gave me an italian look of disappointment.  But I am used to that sort of look.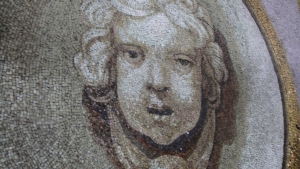 We snuck out the back door so that we would get directly into St. Peter's rather than having to wait in the long line at the front of the church.  Inside the church, we walked around, touched Peter's toe, enjoyed the mosaic art and most of all the cool temperatures.
Debbie and Steve sat down, and Kathie, JeanE, Lisa and I took the winding narrow stairs to the top of the church for the lookout.  This hike up is really cool, as you get high within the church, within the dome.  You can look down over all of the tourists.  We took the moment to do Owl noises so that we could try to get Debbie and Steve's attention.  While doing so, we hiked right by mosaics on the wall that you could just reach out and touch.
We got up to the top and enjoyed a spectacular view.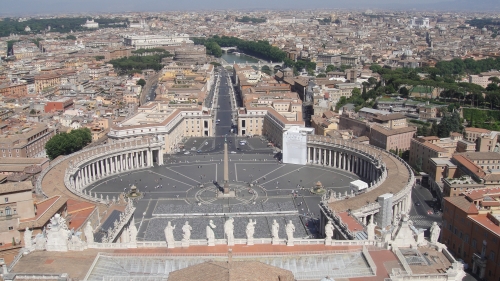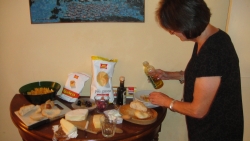 We were there till ab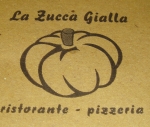 out 4:30 pm, and then we trekked back to Campo di Fiori and picked up some happy hour snacks.  Following that we walked to dinner to an interesting calzone and pumpkin place.  Yes, a pumpkin place.  Most entrees had pumpkin in it.
It was now bed time.