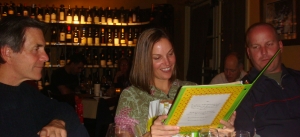 We recently celebrated Lisa's 35th birthday at the Barrel Room.  Arlene had them prepare a special menu listing and wine flight.  Tom, Sue, Dan, Adam and Joey were all in attendance.  We had a great time celebrating.  We also drank some wine. 
As you can tell if you have read any of my wine "reviews," they are not very professional or have much personal opinion.  Although I have taken a trip to Napa Valley, and have sampled many outstanding wines in my life, I often have no idea what I am drinking other than wine.  I am still developing tastes and likes etc.  I think documentation is a great place to start learning what you like and what you don't like.  Anyway, on this night, we drank a 2005 bottle of Jocelyn Lonen Cabernet.  We paid $41 for the bottle but it retails for about $37.
It was a night of celebration, so I didnt take out my notepad to jot down thoughts.  But we all agreed, that we liked this wine.  Thats the review I have for you:  we liked it.

Here is what the winery thinks:
Two stellar new grape sources round out our 2005 Cabernet Sauvignon nicely.  Bennett Ranch Vineyard in Coombsville provides dense, intense fruit and vivid coloring.  Temple from north Napa is an organic, sustainable vineyard producing pristine, well balanced fruit.  Blended together with our Stagecoach/Krupp fruit, the result is a lush, highly concentrated wine with vibrant flavors of mocha, current, wild berry, and plum. 
Production: 2700 cases
Blend: 92% Cabernet Sauvignon, 6% Cabernet Franc, 2% Malbec
Grape Source: Stagecoach, Krupp, Bennett Ranch, Temple Vineyards
Price: $35 per 750ml bottle