May 15th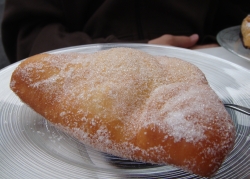 Went to Il Pirata for breakfast and enjoyed a couple of delicious Sicilian pastries, and then we caught the train to La Spezia then Pisa and finally on to Florence, having to change trains at each station.  Carting luggage up and down stairways onto the wrong tracks and then finally to the correct Binari.
Arrived and exited the Firenze train station, but exited the wrong side of the station, and then started walking in the wrong direction away from the city of Florence.  Oops.  400 yards away, we asked for directions to the Duomo, and was told to go back the direction we came from.  
We found our way to the hotel, and it was a beautiful hotel in which part of it was a museum as it used to house a roman bath, a jail, and a lookout point.  It definitely was the 4 star hotel that it advertised itself as–at least compared to the other places we have stayed.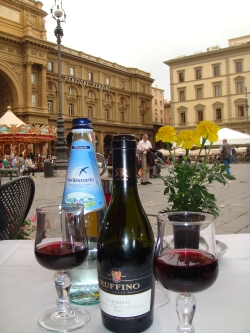 After checking in we took a little stroll to Piazza Republica and ate a pizza and some wine.  Following that, we headed towards the duomo, to check out its graceful, colorful beauty.
After our 7 hour hike yesterday, we were kind of interested in a massage, and so when we stumbled across a place that looked like one, we headed in to examine it.  But it was mainly a tanning and waxing place that was a little odd, and they had no openings for massage.
Spent some time on the Internet, and then walked towards the River Arno to find a restaurant.  We went down the street next to the Arno, but there wasn't anything interesting there.  So we crossed the Ponte Vecchio to the other side, and guess who I saw at the base of the bridge?
I noticed the back of his hair and the side of his face first.  I'm less than a foot away from him, and I realize that it is a Wold brother.  Was it Josh?  Jeremy?  I don't recollect the name at first.  I say "Josh Wold!" but didn't get a response.  Then I said "Jeremy Wold" and didn't get a response.  But then I realized that it was Josh, and said it even louder.  This time he turned around.  
Josh is the brother of one of my dearest friends, David Wold whom I met and lived with in college.  Josh was currently living in Holland, and was merely in Florence for the weekend.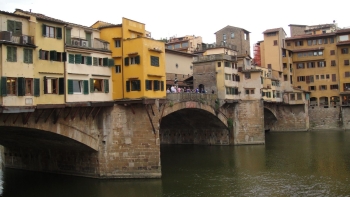 We had a short conversation and then continued on our ways.  Why is it, when travelling on trips like this, that it is bound to happen that you run into someone that you know?  That has happened to me frequently.  When has it happened to you?  and with whom?
I took a picture of the Bibo restraunt where we all ate 11 years ago.  They weren't quite open yet so we went to a nearby restaurant where our waiter Victor entertained us with his friendliness.