May 10th
We awoke around 6am, packed, ate breakfast, and then eventually made our way up and down the town stairs to the ferry.  Took the 30 minute ferry ride to Varenna and then the 10 minute walk to the train station.  We waited at the train station for about 45 minutes and then caught the hour train ride back to Milan.  In Milan we stayed about 20 minute walk from the station and about a 20 min walk to the city center.  We only did one of those walks, you guess which one?  Ok, it was the one when we didn't have luggage to carry (and when we knew which direction to head).  Checked into The Best Western which was nicer than any USA Best Western.  Flat screen tv, wood floors, a nice bed, and our first bidet of the trip (that went unused).
After about an hour of getting in, utilizing the wifi internet, the reception still wasnt done with our passports  or had our game tickets (yep, got tickets to the soccer game!) so we decided to go walking towards the city center.  We didn't exactly know where we were going, but I figured that eventually we would see a big duomo in the sky.  We did.  They had this long corridor of shops before you got to the duomo square.  I saw a sportings good store and went inside in search of an AC Milan jersey, and an Inter team t-shirt for a friend. We found both!  Hopefully my friend likes the shirt, or else I will keep looking.  I was excited to get the jersey before the game.  It was a little pricey as it was more of an authentic jersey, and not the cheap ones they sell from the generator powered push cart vendors.  In the shop, we talked to two sales people who were wondering if we lived in the O.C ("Don't Call It That") and wanted to exchange houses with us.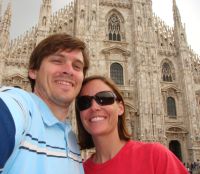 We then continued on towards the Duomo where lisa gave a hello, a "how you doin" in italian.  We got accosted by street salesman selling their knickknacks, and by others who were selling bird seed.  When we wouldn't buy the seed, they would throw some near us and then the birds would descend on us.
We made it to a street-side cafe, and had a lunch of pizza, and a panini.  Very delicious (channeling my inner Dr. Carlander).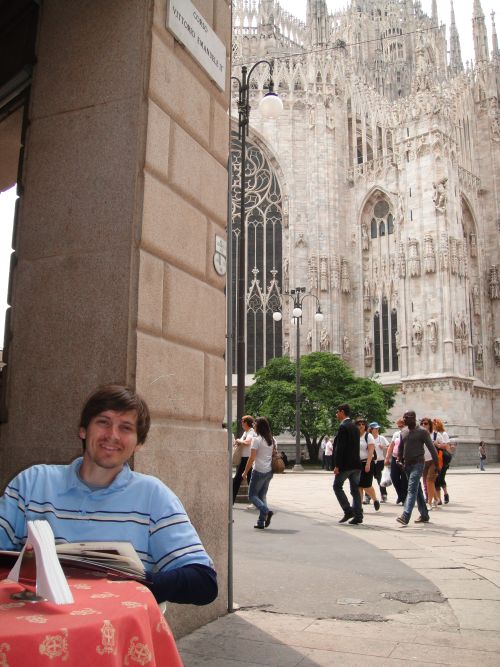 Made the walk back to the hotel, and picked up our soccer tickets.  Face value of 43E, we paid 150E per ticket.  But it would be worth every euro to me.  I changed into my jersey, uploaded some pictures to the computer as backup, and then made our way to the game.