May 16th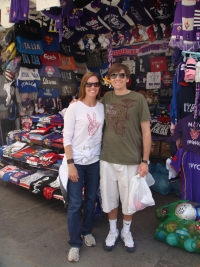 It was kind of odd, being in a big city again.  It kind of felt like I was in civilization again.  That isn't a good or a bad thing, it just felt like there was a large town now, and lots of people.
I really wanted to get some items posted to my site, so we spent a good chunk of time this morning on the Internet in our hotel's bar.
After that we started heading out into the streets, walking around, enjoying sunny Florence.  Two days ago on our hike in the Cinque Terre, Lisa lost her sunglasses.  And today, when we left the hotel, I had forgotten mine.  So we hit up a sunglass store and shopped around.  We now both have some european shades to add flair to our trip.
We continued across the duomo piazza, past the rustic building, to the central mercato.  In Florence, they have 4 or 5 blocks that are just street vendor after street vendor.  Often times, the vendor's push cart is merely in front of their store that is in the building behind them.  Some pushcarts are selling leather wallets, others are selling leather purses or belts.  Some sell souvenir tshirts, while others sell glass or necklaces.
I love this part of Florence.  It is kind of like a giant flea market or swap meet if you will.  11 years ago when I was here, we'd have to walk through this market every day to get to the park where our group would eat our lunch of nutella, bananas and cold cuts.  I have very fond memories of walking through here.  Plus, I love shopping here cause you can barter and find cool items.  Today I bought some soccer jerseys, a belt and a wallet.
I had some friends going to Florence 10 years ago and they bought me a wallet.  It is a wallet I have used since then.  Of course it has been falling apart for a few years, but I said I needed to replace it with one from Florence.  Today I did.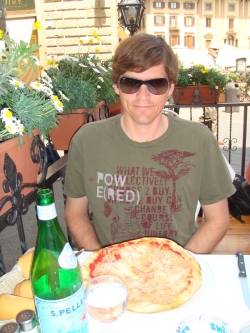 We followed this up with lunch near Piazza Della Signoria.  This piazza is near an old fortress/palace which is now a governmental building and a museum.  In this piazza are replica statues of David and many others.    We had a pizza and it was one of the best yet.
This is a good time to talk about my pizza quest (if I haven't already).  Once again, 11 years ago, I ate pizza in Italy, mainly in southern Italy (Brindisi, Rome…) and it was amazing.  I will never forget it.  It was not like pizza at all.  I would cut into the dough, which was soggy with its toppings.  As soon as I would cut into it, the pizza would practically drain off.  It was like a big doughy, tomato-y, cheesy soup.  Since then I have always held, that pizza in italy is so entirely different than we have come to know it in the states.  
During this trip, the pizza has been delicious, and different from the states, but nowhere near what I remember.  I am on a search for the perfect, soupy pizza.
Today's pizza was much soupier, but still not the same.  Though, I have developed a theory on this trip.  The pizza has gotten better, the further south in Italy we have travelled.  I think it might be a regional thing.  Much like their sauces are regional (creamy base to tomato base), maybe their pizza is too.  Do I really have to travel back to Brindisi to experience this again?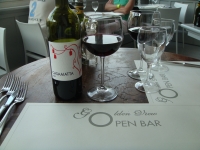 We were still sore from our hike a couple of days ago, and still interested in finding a massage to work those kinks out.  We asked our concierge and the best they had to offer was having the masseuses come to our room.  I've never done that before, and it was a little weird having it in our own room, but of course once I slipped off into relax mode, I forgot all about that.
After our massages, we were in our room, and we heard a lot of clatter from the street below us.  We looked out our window and the street was packed with people, in orderly lines and groups, like a giant marching band.  It was like a parade, but it was a protest.  It was a giant protest march.  The signs they were carrying spoke of communism, of schools, of 1972.  They were singing, chanting, clapping, playing drums and instruments.  It stretched from the Duomo, all the way to Piazza Signoria.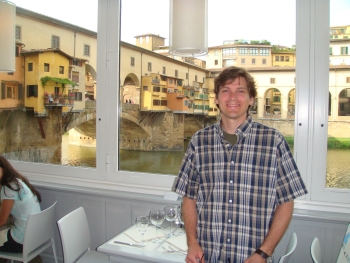 For dinner tonight, we went to the Golden View, Open Bar restaurant which is just on the other side of the Arno.  It was spectacular.  Great views, great food, lovely company.  The restaurant was all white and had a really bright and cheery atmosphere.  We started our meal with some mixed Crostini.  Our second course was some Gnocchi for Lisa, and some Penne for me.  Then, Lisa had some Chicken I believe that she loved, and I had a giant steak Florentina.  I figured, when in Florence…
All were extremely delicious, and the wine and service were great too.  It was unbeatable.
We walked home happy and satisfied, taking pictures of the river, the bridge, and all the crazy town folk.