May 20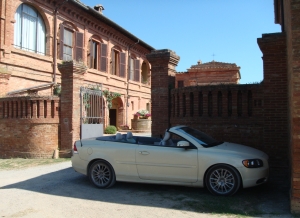 We piled all 6 of us into the tiny volvo convertable.  It was tight.  We closed the roof so that we'd be less visible to the local police, and we drove over to Fattoria Resta where we were scheduled to meet and have a cooking class with Anna Lisaat 10:00 am.    Anna Lisa lives in a former monastery that even houses its very own chapel.  We received a tour of the grounds that has a great view out towards Montalcino.  She showed us her gardens, and of course her vineyards where she grows mostly sangiovese grapes that produces a wine that yields approximately 4, 000 bottles per year.  She took us down to the wine cellar and on the way we passed a stone inscription that basically said that Napoleon stayed there back in the 1805.  Once down in the cellar she told us a wonderful story of how they named their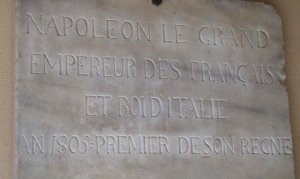 wine.  In the cellar etched on the stone wall, was an inscription that was chiseled by the builder, Martin del Nero in 1573.  The carving was a humble prayer asking for blessings on the cellar, and hopes that he did a good job tending the land, and that he was sorry if he did not.  Anna Lisa was touched by the humility and tenderness of this prayer that she named her wine after him.  The wine recently scored 87 pts from the Wine Spector.  She described for us the white feather artwork her friend made for the label and how she didn't want a very pretentious crest label.  It was a great tour, a great property and what was the beginning of a great day.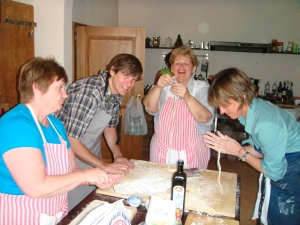 It was now time to cook.  On top of caring for the grounds, running a winery, having a family, Anna Lisa has a passion for cooking.  Today we were going to cook a fine Italian meal together.  You may have jumped ahead of yourself and already seen the pictures of our noodles, or read my mom's site, but we also made focaccia bread, eggplant with tomato and mozzarella, and tiramisu for desert.
We donned our aprons and began with the focaccia bread.  We kneaded it out and seasoned half of it with her special seasoning, and half with some fresh herbs.  We then started on the noodles.  We were making pinci and tagliatelle noodles.  Pinci is made from just water and flour and the ladies took turns mixing the flour and the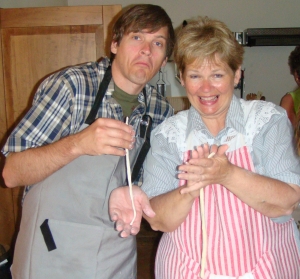 water right in a pile on the table.  Once there was a dough, they cut strips and then came the hard part of rolling the noodle.  We all tried.  Most of us failed.  It's an act of rolling the noodle between your palm and the table so that it becomes perfectly round, shaped like a pencil.  Most of us had the problem of squishing it flat instead of keeping it round.  It was very frustrating, and a lot of work for a pasta noodle.  But I thoroughly enjoyed the attempt, and later the eating.
The next noodle we made was tagliatelle, a long flat noodle that is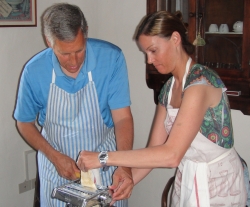 similar to a fettuccine noodle.  This dough we took and spread through a pasta machine/roller over and over till it stretched and thinned itself out.  There was more pasta than space on the table so our long strands would sometimes be touching.  We learned the hard way that this was not good, as the noodle dough would stick to each other and we'd have to back track a little.  Steve and Lisa ran the noodles through the machine over and over till we had a really large flat pasta, which we later sliced into noodles.  This was a really fun experience.  I once attempted to make a fettuccini noodle on my own back in high school.  Without the machine to stretch and thin the noodle, I tried it by hand and rolling pin.  I was always proud of myself, but my noodle definetly was thick and not so great back then.
Our next dish was eggplant.  I have had eggplant once or twice in my life and did not enjoy it at all.  Anna Lisa taught us a trick.  We thinly sliced the eggplant and placed it on a rectangle pan.  We drizzled it with sauce and then found something heavy to place on it.  We let it sit for about 30 minutes and the salt and the pressure would leak out the bitter flavors leaving a fine tasting eggplant.  After letting it sit and soak all its horrible juices out, we patted them dry and then topped them with tomatoes and mozzarella and put them in the oven.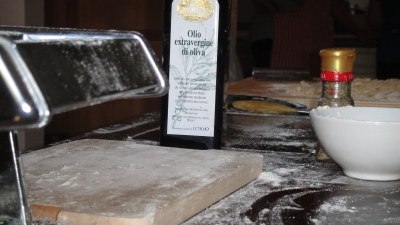 The final dish we prepared was Tiramisu.  Much like eggplant, I have never been a fan of tiramisu.  However, I would later find out that this was the best one I have ever tasted.  It was a simple recipe where we took these Italian cookies, that were these thin wafers.  We dunked them in espresso, but we had to dunk them really fast so that it would merely coat it, but not soak in it.  Then in a dish it was a layer of coated cookie, followed by a layer of mascarpone cheese, then another layer of cookie.  We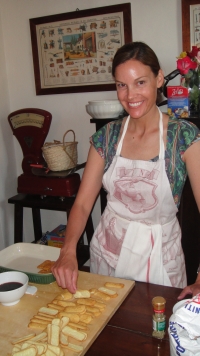 did this till we reached the top, and then we grated fresh chocolate on top.  We let it set in the refrigerator till desert time.
I loved our cooking kitchen.  It was quaint and we had herbs, olive oil, and flour spread across this table that the 7 of us worked around.  We were all dressed up in our aprons as well.  It was very picturesque.
We made some tomato based sauce and then we sat down on the patio to enjoy the cooking, the wine, and each other's company.  We drank some white wine with the appetizer of the focaccia (the side with her spices was the best!) and some artichokes and homemade pate.  Then it was the main dish time where we ate both of the pastas, drank some of her Martin del Nero red wine.  I could not get enough.  It was delicious!
And now for desert.  Wow.  I have never tasted tiramisu so tasty.  It was very light in flavor and was a perfect finish to a grand time.  Although, I could have easily gone for more pasta if only I had room.
We took a group picture and said our farewells.  I knew that I would never forget this experience.  It was splendid and perfect.  Anna Lisa was such a gracious, kind, and fun host today. Thank you from the bottom of our hearts for blessing my family with your time, your spirit, and your great teachings. We had a delightful day that we will not forget.
We left her place around 3:00 PM and made our way back to Montalcino.  We parked the car and started our 10-40 minute walk back to the apartment (depending on whom I was walking with).  On our walk we stopped at one of the cathederal's where my mom played the organ.  As we further progressed through the town, my parents told me stories of Montalcino and how they have 4 quadrants that take communal competitive pride with each other.
The rest of our evening went like this:  grocery store, walk through town, ceramic shop, wine, shop, wine, finished with meats, cheeses, and more wine on the patio.
Tuscany has a charm of its own.