May19th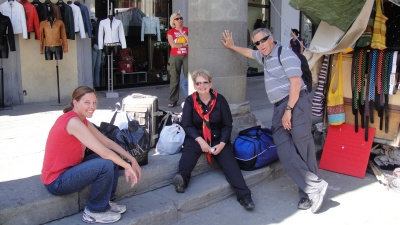 Today we are leaving to go to Montalcino.  However, we do not meet up with JeanE and Kathie till 5pm at the train station, so we have the whole day here in Florence.  However, due to my mom's fall, she can barely move as her whole side is in pain.  So we decide to do very minimal today.  Nope, we will not be hitting the Pitti Palace or the gardens as intended.  I actually didn't mind as I wasn't really looking forward to that long hike again up the hill.  If I could have done something tourist this day though, I think I would have hit the Duomo museum (Mary Magdalene statue) or the Borgello museum (Donatello's David and other sculptures).
After a great night of food and fun, and lots of wine, it was a slow moving morning.  We took our time eating breakfast, and then packed up our rooms and left our baggage with the front desk.  And then we just sat in the bar area.  We discussed things like bidet usage, we did work on the Internet and computer, and we looked at pictures.  My dad ran all over town looking for my moms cross necklace, chain, and angel pin.  He was successful on 2 of the 3, but quite sweaty after literally running around.
We ate lunch down the street at a pizza place, and we were approached by a lady about a charitable organization.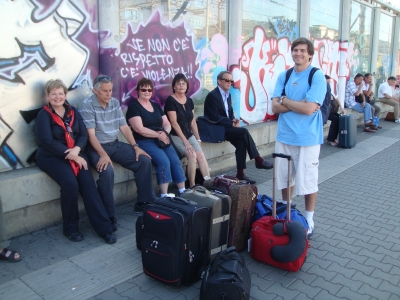 We head thru the market one last time for shopping.  My mom bought more scarfs, probably, I don't really remember.  But it was time for last minute shopping in Florence before we headed out.  We got towards the end of the market, and we sat my mom down, left her a couple bags, and my dad's camera.  Then the 3 of us walked back to the hotel to grab all the luggage.
We got the luggage and then trekked it through the town.  Luggage is heavy when you are carrying multiple pieces for multiple blocks.  We have had to do these long walks usually when we first get to a city, and when we leave the city.  I didn't want to get any hotels right near the train station, as that tends to be more of the seedy parts of town, as well as a little bit of distance from the city centers.
We made it back to my mom, and then trekked through the city some more until we arrived at the train station.  We were scheduled to meet our new travelers here, as they were coming in from Venice.
We waited about 20 minutes, protecting our bags from pick-pockets and crowds, and eventually JeanE and Kathie met up with us at the McDonald's there.  We then walked to binari 2 and waited about 45 minutes for our train.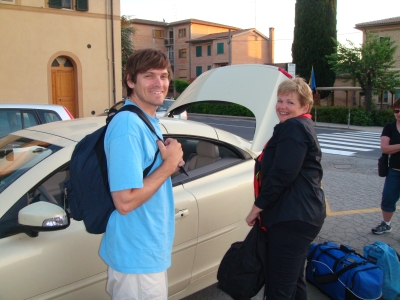 We took the train, and the first stop was about 5 minutes away, it was a secondary Florence stop.  Then it seemed that everyone got on the train.  Meanwhile, my dad is asking my mom for the camera and she has no idea where she put it, or if she even had it.  I have visions right now of when my dad emptied the entire suitcase of clothing once, in the paris airport, looking for something that K.C had misplaced.  We have stacks of luggage now, all over the seats on top of each other, and there is no way he could possibly do that now.  Though, I am sure he wants to.  He is frustrated and agitated, as travelling with many people is not easy.  We try to calm him down by letting him know that at this point, its either in the bags, or its not, and there is nothing he can do.  But more than likely, it is somewhere in the bags and we will find it when we reach our destination.
It's really crowded on the train right now, and we have our luggage taking up seats and people are irritated with us. This Italian guy sat down across from Lisa and  is breathing his bad breath in sighs of frustration on us.  I'm having a hard time concentrating on typing and its really hot and uncomfortable.  I think it must be train rush hour time.  Meanwhile, my dad is irritated because he thinks that he may have lost the camera or misplaced it somewhere in Florence.  Meanwhile, we have met up with 2 new travelers and so there is always transition time of getting used to people and group dynamics.  I am curious to see how this will all work out.
We sit on the train for about 20 minutes without it moving, when over the speaker in Italian, they announce that the train is having problems and we would need to exit and find a new train.  Brilliant.
We hop off the train, high-tail it to a different track, only to see the train that we really wanted, was just leaving a different track.  We hop on a new train.  Lisa runs down the track to ask the conductor if it is the train we want, and he says no.  We all quickly jump off the train with our luggage before it takes us to an unknown destination.  We eventually find the right track, after lugging the luggage up and down stairs.  At one point, I thought there was a nice citizen.  I was carrying multiple bags (mine, Lisa's, Jeane's…I don't remember anymore), and taking my time up the stairs.  Someone came by and grabbed the side of one of the bags, and helped me carry it to the top.  How nice!  How kind and caring these Italians are.
Five minutes later, he came by begging for change.  I was set up.  The "norm of reciprocity" strikes again.  Eventually our train arrived, and it was the nicest train we had been on yet.  We enjoyed a 2 hour train ride through the country side.  We were covered with green hills.  It was beautiful.
We arrived at the Buonconvento train station and saw for the first time my parents new car.  While my dad was walking the couple blocks to pick it up, we rummaged through our bags and found his missing camera.  He will be so happy.  Because they have a convertible, we couldn't fit everyone (this time) and our luggage so Lisa and I stayed behind to wait for trip #2.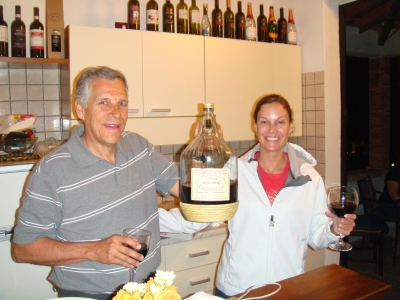 We walked thru the streets of Buonconvento, used the restroom, checked out the 7-11 type convenient store, and eventually sat outside the tiny train station at a little restaurant and ate a snack of pasta with bolognese sauce.
Dad came back and picked us up, and we drove the 10 minutes to Montalcino, with the stars above us, the top down, and my dad blasting Michael W. Smithmusic because its the song on his ipod that gets the most bass and he wanted me to experience the woofer in the back.  Very funny when a 1980's Christian pop/worship music singer is your idea of heavy bass.  It was a beautiful drive.  One that I wish we could do again, over and over.  It was a very pleasant evening and it was nice with the wind in our hair.
We arrived in town, walked our bags up and down hills and made it to the cute little apartment with a fabulous view of the green country side.  There was pizza waiting, and jugs, yes, jugs of wine waiting.  We ate, we drank, we looked out through the peaceful valley, and we enjoyed catching up with everyone.