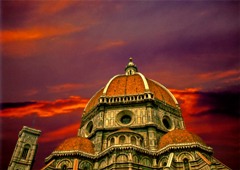 Yes, I know what that phrase means, do you?  The other night I went downtown to little Italy for a lecture on florence art and architecture at the ICC.  The lecture was done by Miti Aiello, Architecture and Art Professor at Newschool of Architecture and Design and was titled Under the Shadow of the Duomo: Architecture of the Renaissance in Florence.  It was an enjoyable lecture, seeing pictures from florence, and learning different things about certain aspects of the history of florence.
After the lecture, I walked around little Italy, and decided to stop for a bite and got a table curbside at Buon Appetito.  I had a lovely evening, on the street sipping a glass of wine, enjoying good food, and soaking in the culture.  I ordered a caprese salad, a glass of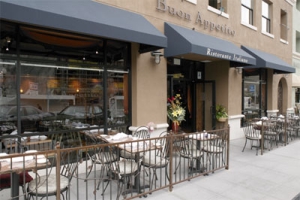 Rubico Lacryma di Moro d' Alba ~ Marchevv, and a plate of Penne Pasticciate.  Everything was very delicious other than the wine.  Although I enjoyed it, I probably won't order it again.  It had too much of a strong fruity taste.  The menu describes it as "Medium body with notes of dried rose petals with raspberry overtones. A hidden treasure! Like no other wine!"  I agree that it was like no other wine, but not in a good way.  However the caprese and the pasta were to die for.  The pasta was a penne bolognese, basically.  However, they put a dallop of mascarpone cheese on the top.  Mascarpone cheese is relatable to cream cheese.  So imagine a cold dollup of cream cheese on top of hot steamy pasta with meat sauce.  Odd, no?  I mixed the cheese into the sauce and it was heaven on a fork.  Yum.  I want to go back.
I like being immersed in culture.  I found it fascinating to just sit on the street patio, people watching.  Couples walking by speaking italian, customers at their tables jabbing about their flights back to the east coast, and waiters flirting with pretty girls.  I didn't feel like I was in a different country, but I felt like I was not in my own neighborhood.  Part of me wishes that I was more cultural.  I am always fascinated when I am in a new place or am with people different than I am used to.  I love soaking in history, culture, and different people.
I feel completely blessed.  Part of me thinks that I could die today, and that I would feel like I have lived a lucky and blessed life.  I have experienced so much more than most people in the world.  I have traveld– been to about 10 different countires and about 35 different US states.  I have loved and I have been loved.  I have spent time at college.  I have developed deep friendships.  I have been employed.  I could die today and feel that there was very little my life lacked.  But despite that, I still wish there was more.  I am always in longing.  There is never enough time in life, enough hours, days, weeks,  months to fully do all that I want, or be all that I wish.
I wish there was someone in my life, that was more of a "forger."  That fits themselves into any situation and holds total confidence.  I am a follower at heart.  I lack confidence.  I wish there was someone close to me that I could latch on to and find myself feeling at home in random situations and scenarios.  There is so much culture out there that I wish I could invert myself into.  Whether that means clubs downtown, bars, countries, art galleries…I want all that life can offer.  My shy un-confident side often keeps me out of these situations, or at least limits them.  There is so much more of life I want to soak up.  There is nothing I want to miss out on.  I want all that life has to offer.  I want to live the life.